St. Louis Cardinal Cruise January 20-28, 2024
The St. Louis Cardinal Cruise 
Join us and Celebrity Cruise Lines' Celebrity Reflection sailing to lush ports of the Eastern Caribbean with members of the St. Louis Cardinals alumni, front office, loyal fans like yourself and everyone's favorite mascot, FREDBIRD!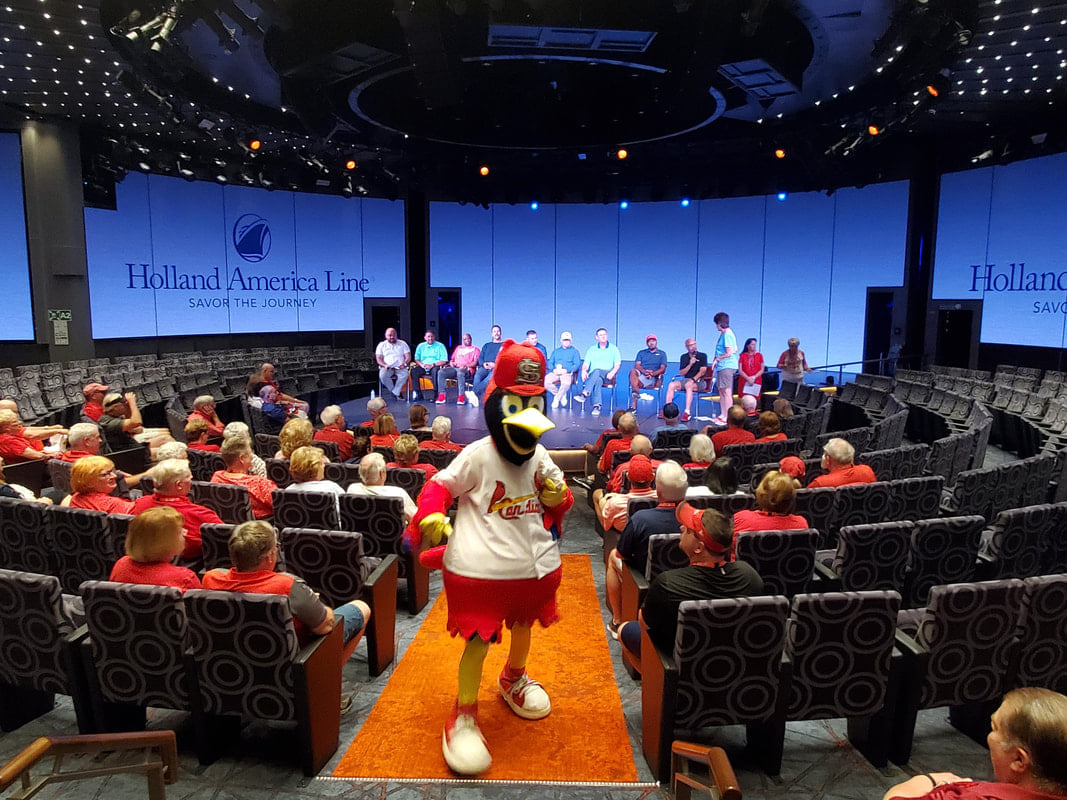 ---
8 Night Eastern Caribbean Itinerary 
 
January 20-28, 2024
SAN JUAN, PUERTO RICO - Puerto Rico is one of the largest islands in the Eastern Caribbean. Discover the classic signs of a vacationer's paradise on one of our many cruises to Puerto Rico: gorgeous landscape with lush green mountains, underground caves, balmy waters, white-sandy beaches, delicious rum drinks and so much more. Spend an afternoon snorkeling during your cruise to Puerto Rico and discover the beautiful marine life of the Caribbean Sea while swimming among the fish, coral communities, mangrove forests, and seagrass beds. Or take an evening sail around Old San Juan for amazing views of the 500-year-old walled city as the sun casts gorgeous light on the turquoise waters.
CHARLOTTE AMALIE, ST. THOMAS - Charlotte Amalie is the enchanting capital of St. Thomas that has attracted pirates and sailors the world over for centuries. The island enjoys a fascinating fusion of Danish, French, Spaniard, West African and Carib influences. For a nice overview of the island's history head to Fort Christian Museum. Built as a military fort by the Dutch in 1680, this historic landmark features exhibits chronicling the history of the Virgin Islands from the Stone Age to the present. Experience the beauty of St. Thomas beaches with a wonderful picnic on Magens Bay beach or snorkel in the turquoise Caribbean Sea where you'll come up close to corals, sponges, and schools of colorful tropical fish. There is one thing that sets St. Thomas apart - shopping. This island is the most commercial of all the U.S. Virgin Islands. Browse through the shop-lined streets and shop for duty-free trinkets and bargains on everything from liquor to imported china and crystal.
PHILIPSBURG, ST. MAARTEN - In the 17th century, Dutch and French soldiers decided to share this little island, and today it remains happily split between France (Saint Martin, north side) and the Netherlands (Sint Maarten, south side). Cruise to St. Maarten and explore the dozens of alluring beaches that ring the island. At Orient Beach, sunbathers bask and beachcombers stroll on the white sands, while divers and snorkelers explore the sunken shipwrecks and marine life just offshore. You'll really get blown away at Jet Blast Beach. Embrace all the beauty of the island on a tour to the French capital, Marigot, where you can explore the quaint streets and cafés, open-air market, and 18thcentury Fort Louis. Take a scenic cruise of Simpson Bay Lagoon, site of luxurious villas and mega yachts.
TORTOLA, BRITISH VIRGIN ISLANDS - Tortola also has a fascinating cultural and historical side. For a glimpse into the island's colonial past, visit the Virgin Islands Folk Museum. The restored house was once the family home of shipwright, Joseph Wilfred Penn and features a deep collection of Arawak and Carib pottery and stone tools, as well as plantation artifacts. Snorkeling in the crystal-clear Caribbean Sea
and a rum tasting at Callwood Rum Distillery are essential on a cruise to Tortola. Sample the delicious curries, spicy soups, and sumptuous shellfish dishes available in abundance at local restaurants and many snack shacks around the island.
PUERTO PLATA, DOMINICAN REPUBLIC - Puerto Plata was inhabited by the Taino people for centuries before Christopher Columbus arrived and founded the city in the early 1500s. By the 20th century, Puerto Plata had emerged as the Dominican Republic's main tourism hub. You can paddle through a manatee reserve or zipline over treetops. Go for a swim at the awe-inspiring 27 Waterfalls complex. Hike
through the lush jungle of El Choco National Park, enjoying the park's two lagoons. Swim with dolphins at World Ocean, the largest manmade dolphin habitat in the world, or grab a kayak and head out on the water at Manatee Reserve.
---
What's included?
 
Private cocktail parties
Q&A Session
Photo Session
Autograph Session
ALL with Cardinals Celebrities!
---
Benefitting Cardinals Care
The St. Louis Cardinals and our charitable arm, Cardinals Care is dedicated to Caring for Kids! This mission statement is achieved through a variety of programs backed by our players, coaches and front office staff, allowing for cash grants to support organizations in and around St. Louis. Redbird Rookies, the flagship program of Cardinals Care, affords thousands of kids the opportunity to play ball and learn life lessons in the process.
---
Terms, conditions and restrictions apply; pricing, availability, and other details subject to change and/ or apply to US or Canadian residents. Please confirm details and booking information with your travel advisor.